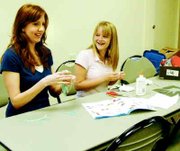 Sara Beightol and Heather Hurst work at the City of Sunnyside Parks and Recreation Center, where they enjoy crafting projects and working with children, but that is where the similarities end.
They are driven by completely different ambitions in life that have led them to the same path.
Beightol grew up in Prosser and graduated from Prosser High School. She is attending Washington State University to become an elementary school teacher. Her job at the recreation center is preparing her to learn new crafts for her future students. In the fall she will return to WSU.
Hurst grew up in Sunnyside and graduated from Sunnyside Christian High School. Although, like Sara, she only started two weeks ago she enjoys the artistic elements that the job offers and watching children get excited about arts and crafts. She also works at Hopfengarten Art Gallery in Sunnyside part-time. She plans on attending an art school in the fall, possibly the Seattle Art Institute.
The summer fun began three weeks ago for these two and it will be even more fun when the kids are out of school to enjoy the activities.