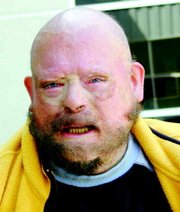 One toddler. A can of fire-starter fluid. An open fireplace.
That proved to be a recipe for disaster.
Matthew Perrin was a precocious child who was walking at 11 months. Which was fine, until the morning Matthew stumbled and bumped into a can of fire-starter fluid that was lying in front of the fireplace, tipping it into the flames.
"It just exploded," said Perrin, who has been living with the results of that accident most of his 42 years.
"It didn't touch my eyes or lungs. I was really quite miraculous. One doctor told me I was one of only two cases he had seen that received the extent of burns like that and lived," said Perrin.
He has no memory of the morning that changed his appearance forever.
He said the lack of memory is not unusual, considering his age at the time or the fact that loss of memory often blocks out trauma.
He does remember what happened in the following years.
"In the first three or four years, I had about five surgeries a year because scar tissue doesn't grow, so the skin grafts had to continue," said Perrin.
Today, Perrin's face, free of frown or smile lines, bears dark patches that are grafts from other parts of his body. His hands, especially the right one, carry the same tell-tale markings that show how extensive the repair work had to be.
There are no discernible fingertips on that right hand, which seems to have taken the brunt of the explosion, along with his face. And, when the fingers started to curl early on, metal pins were put in each one to keep them straight. He also worked to keep the fingers flexible, to the point that he is a student of martial arts and an accomplished pianist and drummer.
At age 15, doctors rebuilt his nose and, later, a reconstruction surgeon gave him a beard and mustache by grafting skin from his neck to the appropriate areas.
"That was his advice, and I took it," said Perrin.
Because scar tissue inhibits growth of hair on his head, he prefers to keep it clean shaven.
"I've had a lot of reconstructive surgery around the eyes and probably over 100 surgeries all together, but I've never let myself be limited in what I could do," said Perrin.
And he's done quite a lot.
His conversation is rift with vocabulary that exposes his views and opinions on religion, politics, voodoo, witchcraft and mystiques and cultures of foreign countries. Seemingly, there is nothing that isn't of interest to him.
His resume also reads as if a bouncing ball skipped through it, and Perrin admits that he has not yet settled down to one thing, but does intend to.
His first step was to enroll in the 2005 winter quarter at Yakima Community College on the Grandview campus. He chose Grandview because it is close to Prosser, where he went to live with his mother to offer her his presence and support when his father died in October.
"I've done a lot of different jobs, a lot of telemarketing, event staffing (providing security at events) and I've even learned to cook at a cooking school in Seattle. I'm real good at selling and I'm good at business," said Perrin, whose plans include transferring to a four-year college after YVCC to study international business, a route that he hopes will lead to owning his own business.
Perrin said he considers himself fortunate that the accident happened to him at such a young age.
"I didn't have to adapt to a sudden change in my appearance," he said.
"But it's a mixed bag. My personal charismatic nature helped me make friends easily, but children will target a weakness or what they perceive as weakness, so I took a lot of teasing because of the scars," said Perrin.
In his teen years, he said he acted out.
"Teased or mocked in school, emotionally I was not mature enough, under that barrage, without giving some kind of reaction. Perhaps it was a wall of defense or I thought, if there was going to be a problem, I'd beat them to it," he conjectured.
That defensive attitude kicked him out of 11th grade and into a youth ward at a psychiatric hospital for a short stay, where he found some therapists he considered "competent" and others he "didn't think much of" because he could manipulate them.
When it was apparent the teenager had pole-vaulted himself into one situation just to escape another, he was sent home to his mother.
Now he says, "My personal situation is not worth getting angry about."