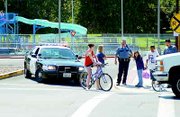 What better way to mark the start of summer vacation than a dip in the pool?
That was the thought many Sunnyside children had as they headed in droves to the Sunnyside swimming pool yesterday afternoon.
But they were turned back by police officers, who were told to close the pool in response to threats of violence reported by Sunnyside School Resource Officers
"There were rumors flying all over the place about fights that were going to take place at the park," School Resource Officer Chico Rodriguez said this morning.
He noted that last year officials allowed the students to have water balloon and shaving cream fights at the park.
"About an hour into it other citizens at the park were hit by water balloons and a fight erupted," Rodriguez said.
In an effort to prevent a repeat of last year's incident, the decision was made to close the park and pool yesterday afternoon.
Despite the closure, Rodriguez said arrests were made yesterday in response to fights that erupted in areas just outside of the park.
The pool and park were shut down at about 2:30 p.m. yesterday and were closed until about 5 p.m. later that afternoon.
It was reported that some of the first park visitors yesterday afternoon were gang members, who were later patted down. Some, it was reported, were arrested on felony warrants.
Most of the youth who were turned away at the pool expressed disappointment over the closure. "It's the last day of school," one boy said to a police officer. "Everybody's coming here."
When told of the closure one parent expressed appreciation to an officer, noting it is "better to be safe than sorry."
Rodriguez said the intent of the park and pool closures was not because police do not want students to have fun. "It's because we don't want them to get hurt," he said.
The odd sight of a vacant swimming pool on the first day of summer break-and a warm day at that-was not lost on Police Officer Jim Orth.
"It only takes a few to ruin it for everybody," he said.