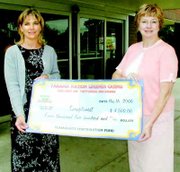 Carol Bos had her first experience with breast cancer in 1995. It was summer and she was having her annual mammogram. It was this mammogram that showed the cancer in her body.
"Early diagnosis was the key," she said. Bos was able to have a lumpectomy and with some radiation treatment, the cancer was removed.
Ten years later during another routine mammogram, Bos was diagnosed again with Breast Cancer. "This time it was on the other side," she said.
Again, because of early detection, she was able to have the cancer taken out.
The technology has changed in the last 10 years when it comes the lab work and the surgery itself. "Things are done more quickly and the equipment is different," she added.
Bos is lucky. She has had very few side effects from the operations. "It's always in the back of my mind though," she said. "Will it show up again and when?"
She says she handles it by just going on. "You thank God for every new day," she said. "There is a new appreciation for life. The camaraderie you develop with other cancer survivors is great. You're all just brothers and sisters."
Bos has been able to beat cancer twice. Probably the biggest reason is the early detection of the cancer. She has insurance so she gets a mammogram once a year. But what about the women who don't have insurance and can't afford the cost of this potentially life saving exam?
Bos, who is a cancer survivor, is also a member of the Sunnyside Soroptimist Club. The Soroptimist Club has been giving money to Sunnyside Community Hospital for 10 years to help women get mammograms.
The Soroptimist Club recently gave the hospital $4,500 for the mammogram fund. The club also raised money by spending a weekend at Indian John Hill Rest Area on I-90 near Cle Elum, giving away coffee and cookies for donations. They have a plant sale to that raises some money for the fund.
"It's an absolutely wonderful program," Bos said of the mammogram fund. "I encourage all women to get one done. The earlier you find out, the better."
More like this story