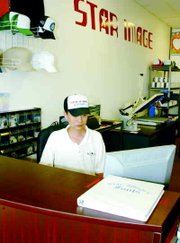 The Sunnyside City Council on Monday night approved the expenditure of $4,000 to help fund a $5,000 July 4 fireworks show on the high school football field.
Council acted in response to a request by the Sunnyside Lions Club and VFW to continue the fireworks tradition, which Lions spokesperson Julia Hart said has been ongoing for the past 10 years.
After approving the request, Councilwoman Theresa Hancock encouraged the Lions and VFW to pursue a corporate sponsor in the future for fireworks displays.
While supporting Hancock's suggestion, Councilman Bill Gant said the city should continue its support for fireworks displays-or even increase it-in case a sponsor is not found.
In related discussion later in the meeting, a question was raised as to why Sunnyside has a festival for Cinco de Mayo, but not the Fourth of July.
"You close the whole town down to celebrate a foreign nation's independence, but what are you going to do for the Fourth of July?" said Mark Clements, who lives near Sunnyside.
Clements posed the question during the public comment period in response to the fact the city will only have a fireworks show on July 4.
City Manager Bob Stockwell responded that the city already puts on two large festivals a year, Cinco de Mayo and Sunshine Days, in addition to the lighted farm implement parade.
He noted that the few events previously held on July 4 were so poorly attended that organizers decided to move those to a venue with more attendance, such as Sunshine Days.
Stockwell added that other communities in the Yakima Valley have Fourth of July festivities.
He said that just as residents from outside of the Sunnyside area visit the city during its May, September and December events, many Sunnyside residents travel to July 4 events elsewhere in the county before returning home for the fireworks show here. "There's no reason for us to compete with other celebrations in the county," he said.
Mayor Ed Prilucik said festivals are ultimately up to the community.
"Community celebrations are dependent on the community," he said. "It all depends on members of the community."
In response to a claim by Clements that Sunnyside always used to have parades on the Fourth, Prilucik said he couldn't recall any. Hart added that in her research she had never found any records of a Fourth of July festival in Sunnyside.
With that said, Hart noted there's no reason why more festivities couldn't take place during the four-hour program planned for the July 4 fireworks event.
"We have lots of holes in our schedule," she said. "We invite the rest of the community (to participate). They can jump on the bandwagon, the more the merrier."