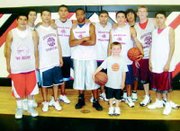 The Grandview High School Greyhounds, running their tourney record to a perfect 6-0, topped the field at last weekend's second annual Sunnyside Boys Basketball Invitational.
After completing pool play with a 3-0 record, the 'Hounds knocked off Riverside Christian and Zillah in the single-elimination trophy round to advance to the title game. In the championship tilt, Grandview defeated the Kennewick Lions, 61-58.
A.J. Valencia topped the 'Hounds in the scoring column against Kennewick, dropping in 23 points. Teammate C.J. Lopez also scored in double figures by popping in 15 points. Sophomore-to-be
Rogi Fajardo also had a good game against the Lions, scoring 9 points. In Saturday afternoon's semi-final contest against Zillah, Fajardo drilled the net for 15 points.
Kennewick had an opportunity to send the championship game into overtime, coming up with a steal in the closing seconds, but a last-second shot from behind the 3-point arc was off the mark and Grandview prevailed, 61-58.
The host Sunnyside Grizzlies, like Grandview, swept through pool play unbeaten.
The Grizzlies opened the tourney with a 61-49 victory over the Pasco JV, with D.J. Palomarez, Matthew Jongsma and Gibby Briones leading the way in the scoring column with 23, 12 and 8 points, respectively. In their second round-robin pool game Friday evening, the Grizzlies handily beat the Othello Huskies, 50-37. Briones and Bryce Reinhold each knocked down a team high 9 points for Sunnyside. The host club completed pool play Saturday morning with a 54-53 win over White Swan. James Baysinger and Briones were the leading scorers for Sunnyside with 11 and 10 points, respectively. Justin Bos and Nate Cornelius combined for 17 points in the victory.
Advancing to single-elimination play on Saturday, Sunnyside dropped a 68-57 decision to Zillah. Baysinger had a team high 11 points in the loss. Zillah's Chase Marquis, Chris Gasseling and Eric Martinez combined for 45 points.
Sunnyside closed out the June 9-10 tournament with a convincing win over Riverside Christian in a quarter-final losers bracket game.