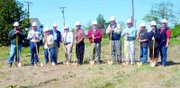 BICKLETON - The Bickleton High School band played the Star Spangled Banner and 225 spectators watched as ground was broken on the Alder Creek Pioneer Carousel Museum.
The Bickleton carousel is 101 years old and is only used one week out of the year. For years now, some citizens of Bickleton have been lobbying for a place to store the carousel horses and still be able to let the public view them.
"The horses are quite valuable now," said Barbara Clark, co-chair of the Bickleton carousel committee. "In the past we haven't been able to let people know where the horses are stored."
They were afraid someone would try to steal the horses, she said.
The money to build the museum is coming from the Washington State Legislative capital fund. The committee has $450,000 to spend and Clark said all of it will be used. Mountain States Construction will be building the museum in downtown Bickleton on Market Street.
Clark said as soon as the building permits are OK'd by the county, construction will begin. Clark figures that will happen sometime in the next three weeks. Work should be completed three months after it is started.
"The museum is for the storage of our antique carousel horses and for the history of the Alder Creek Pioneer Association," Clark added.