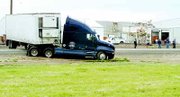 A u-turn was blamed for a jack-knifed semi, which closed Highway 12 both ways for more than an hour Monday afternoon.
The semi driver, Manpreet Singh of Stockton, Calif., attempted a u-turn on the highway just past the junction of Allen and Juanita Roads.
Sunnyside Police Sergeant Preston Kelly said that Singh, driving a truck belonging to Global Carriers of Manteca, Calif., was lost due to incorrect driving directions and attempted a turnaround to head back into Sunnyside.
"He pulled off on the west side of the roadway, then made a u-turn and got stuck in the dirt on the east side of the roadway," Kelly noted.
That resulted in the truck jack-knifing. While Singh's cab was stuck on the side of the road, the semi truck trailer sat squarely in the middle of Highway 12.
The incident was reported to Sunnyside Police at about 1:30 p.m. yesterday and traffic resumed by 3 p.m. that same afternoon.
There were no injuries or damages reported. Singh received a $101 citation for making an improper u-turn.