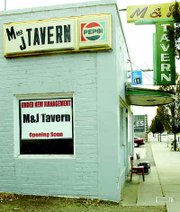 GRANDVIEW - Brian Gilbert always wanted to own a bar. His girlfriend, Tammy Guerin, thought owning one would be an interesting and fun adventure. Gilbert got his long-time wish and Guerin will get to see how fun running a bar is when the two re-open M&J Tavern in Grandview at the end of June.
Gilbert and Guerin both live in Yakima. After many years of driving a truck, Gilbert settled down at a beverage company in Yakima.
Gilbert has been coming to Grandview for some time now because of his involvement with VFW Post 6929, which is located just behind M&J Tavern. He had gone into the tavern before and liked the place. When he heard it was coming up for sale, he bought the tavern at 110 W. Wine Country Rd.
"We bought it in April," Gilbert said. "We're going to keep the name M&J because it's been called that for a very long time."
At the moment, Gilbert and Guerin are sprucing up the place a bit. "It's been somewhat run down for a few years," he explained of the work. "The regulars don't care, they just want it open."
The main job is just cleaning up the place after it's been closed for three months. Gilbert is also re-doing the bar stools and painting the place. He plans on putting a different top on the bar and will remodel the bathrooms.
Over the years M&J Tavern has gained a reputation for its fried chicken, and Gilbert and Guerin plan on keeping that tradition alive. A pressurized deep-fat fryer is used to get just the right taste out of the chicken. "The menu will feature everything M&J's had before and more," Gilbert added.
Along with a jukebox in the bar, Gilbert and Guerin plan on having Karaoke on some Saturdays.
Gilbert is planning on bringing in four TVs for customers to watch sports on. "We'll have a couple of games going all the time," he said.
Another thing that will be new to the regulars at M&J Tavern will be a happy hour. "We're going to have two of them," Gilbert said. "One in the morning and one in the afternoon for people getting off work."
Besides the regular non-alcoholic beverages served in most taverns, Gilbert said he will have lots of domestic beers and a few imports. He will also sell kegs of beer to go.
"We're hoping to open up in the next three weeks," he adds. "Right now we're waiting on the state to finalize some paperwork. In the meantime, we'll be cleaning the place up and getting ready to open."