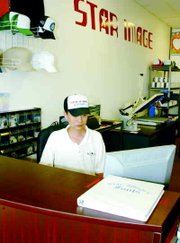 David Kim is banking on the large number of Hispanics in the area to frequent his new business in Sunnyside.
Kim recently opened Star Image at 2685 Lincoln Avenue, Suite F in Sunnyside.
"This business is for Spanish people," Kim said. "They like to take photos and put them on their shirts."
Since the Lower Valley has a high population of Hispanics, Kim thought his business would do better here.
Star Image specializes in a host of things. Kim can take any picture and put it on a t-shirt or hat. The technique of putting a picture on a hat or t-shirt is called heat transfer. "They can bring in their own design or we can get it off the internet," Kim said. "I can also take the picture myself."
Kim also has decals to put on cars. The famous image of Calvin desecrating any number of objects can be bought here. So can a huge decal stating the driver is a "soccer mom." Chevy, Ford and all the other car brand decals are at Star Image, too.
"I heard people go all the way to Seattle for this stuff," Kim said. "That's really far away."
Kim can also put pictures on coffee cups and mouse pads. He also does passport photos as well as portraits and family photos.
Another thing Kim does is engraving. Mostly on what looks like dog tags. The tags range in size.
Kim said he can make shirts or hats for sports teams, schools and company logos.
Kim learned his craft while living in California, where he said these types of shops are popular. When he moved back to Yakima a few years ago, he opened up a business there. He has since sold that business to his sister and opened up Star Image in Sunnyside on June 1. "Here the rent is cheaper so the prices are cheaper too," he confided.
Kim enjoys what he does. "It's my kind of work," he said. "I like to design things. When I do a good job I'm happy with myself. If the customer is happy, then I'm happy."
Kim said this is the first business of its kind. He said it's the first time a business offers a studio, decals and heat transfers, and put them all together.
"I like to try different things," he explained.