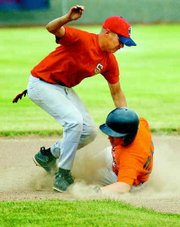 If that red light you're staring at during a traffic stop in Sunnyside seems sharper, brighter, that's because it is.
This past Thursday, the city of Sunnyside completed installation of new light emitting diode (LED) lights at each of its traffic signals.
Changing out the bulbs took about a month, said Public Works Director Jim Bridges.
The bulbs, which have a five-year guarantee, save 90 percent on energy costs for operating the traffic lights, he said.
"We decided to start this process (of changing the lights to LED) all at once because of incentives and to get our costs down," Bridges noted.
The incentive he refers to is a rebate program through Pacific Power and Light to help offset the city's costs in purchasing the more expensive LED lights.
Sunnyside paid $46,815 for the new traffic light bulbs. With PP&L's $14,300 rebate, the city's actual cost is just over $32,000.
"The power savings is so substantial (with LED lights) that they will pay for themselves in three years," Bridges said.
Beyond the power savings, there are also improved safety considerations by using the LED lights, noted John Stanton, Superintendent for the city's Street Department.
"One benefit is that they're brighter, especially in the evening," said Stanton, who noted that LED bulbs do not burn out all at once, like a typical light bulb.
That in turn, means increased safety and fewer calls for city crews to replace light bulbs at traffic intersections.
In fact, added Bridges, the diodes that make up an LED light are so small they are about the size of a pencil eraser.
"When a standard light bulb burns out, it's gone," he said. "When a diode in an LED light goes out you won't even notice it."
John Fannin/Daily Sun News
New LED lights have recently been installed in all of Sunnyside's traffic signals, like this one at South First Street and Lincoln Avenue. Due to energy savings, the lights will pay for themselves in three years.