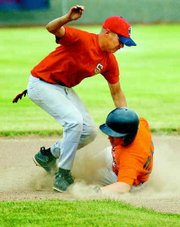 The Sun Valley 16/18-year-old Junior Legion team is still searching for its first win on the season following 15-5 and 17-6 home losses to Kennewick yesterday.
In game one, the Sunnyside team rallied for four runs in the fifth inning to close within 10-5, but Kennewick answered in the sixth with a five-run rally to put the contest away.
Gibby Briones, Nathan Cornelius, Sef Amaro and Diego Burgeuno delivered RBI base hits for Sun Valley.
"It was nice to see the kids battle back," Head Coach Tyler Alseth said of Sun Valley's fifth inning surge.
In game two, Sun Valley trailed just 4-3 heading into the third inning, but three errors in the third led to Kennewick scoring nine unearned runs and collecting a 13-3 advantage.
Cornelius and Cameron Boboth both went 2-for-4 with an RBI for Sun Valley.
Now 0-12 on the season, Sun Valley is off until June 27 when it plays at Kennewick.