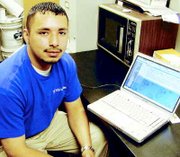 Jesus "Jesse" Valle is all about getting people connected.
While at his day job as a sales representative with U.S. Cellular in Sunnyside, Valle connects customers to wireless phones and services.
"We have a lot of things to offer, so I have to talk with each customer individually to see what they want," he said. "Some people just want a basic phone, and others want extras like a camera phone."
The same philosophy applies to wireless plans.
"We wouldn't want to sell an international plan to someone who never leaves the valley," said Valle.
Valle, 23, hails from Mabton and in his spare time is helping to connect a student there, Derek Gonzalez, with the hopes of launching his music career.
With a laptop chock full of music samples and sounds, Valle takes the role of an advisor in the studio. "I'll listen to Derek and suggest maybe adding higher vocals on the chorus so it sounds like there are more singers," he said.
As a former DJ, Valle knows a thing or two about working in the studio. His work with local artists comes without pay, but does earn him and Gonzalez recording time in the studio. The experience has also given Valle a network of musicians and singers to seek out when recording.
Valle, who is also thinking about dabbling in acting, said he hopes Gonzalez's CD, featuring hip-hop, Tejano and rap, will be available in July.
"He's definitely a vocal talent," Valle said of Gonzalez.
Meanwhile, Valle is committed to his job of helping customers network with U.S. Cellular.
"Meeting people, that's why I like what I do," Valle said as he prepared to assist a customer at the U.S. Cellular office in Sunnyside, in front of Wal-Mart.