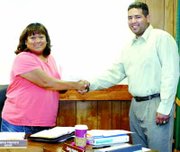 MABTON - The city council last night decided to hold a public hearing Tuesday, June 27, to hear public reaction to a proposed increase in the mayor's salary.
The Mabton council directed Mabton City Administrator Ildia Jackson to see if there is money in the budget for the increase. The council said they would like to see the salary increased to between $400-$600 per month.
"I'm going to review the finding to come up with potential sources," Jackson said. "I will also review the salaries of other mayors in towns comparable to Mabton." Cities with similar populations would include Granger, Tieton and Zillah.
Mayor Velva Herrera works full-time for the Sunnyside Housing Authority Group Home. Herrera said she puts in up to 35 hours a week performing mayoral duties.
As of now, the mayor gets $60 per council meeting. There are two meetings per month. Last year the council voted to raise the mayor's salary from $30 to the current $60.
Councilman Angel Reyna said it was the idea of the council to give the mayor a raise.
"We suggested the raise because of the increase in the role of mayor," Reyna said. "She puts in a lot of time. She's more active by coming into city hall and working with the staff."
Also at Tuesday's meeting, Herrera swore in new councilman Mario Martinez. He was picked to replace John Reynolds, who resigned from the council last month.
The council voted to surplus a 1993 Dodge truck to take the truck off the city's books. The council hasn't decided what to do with the truck. There was talk of donating the truck to the food bank but that decision was tabled until the June 27 meeting to see if the food bank is interested. If not, the city will put the truck up for sale.