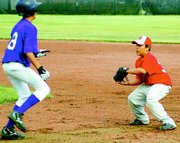 The bad news is that the Sun Valley 13-year-old Babe Ruth team lost 19-10 at home yesterday to Pasco.
The good news is that the Sunnyside club found an offense.
Sun Valley broke out to a 2-0 lead in the first during a rally that saw three steals, including a swipe of home.
After two innings the home team still clung to a 3-2 lead, only to see it undone with a nine-run Pasco rally in the third. A pair of walks, a misplayed sacrifice bunt, followed by a base hit and four consecutive walks started Pasco on the game-breaking rally.
Sun Valley attempted a comeback after Pasco took its 11-3 lead, scoring three in the fifth inning and four more in the sixth to pull within 13-10.
But Pasco closed the door from there to escape with the win.
In a sign of Sun Valley's awakened offense, the team had two players with multi-hit games. Rigo Valdez and Josh Romero were both 3-for-4 at the plate. Romero scored three runs and collected one RBI, while Valdez stole three bases and had one RBI.
Kevin Alvarez was 0-for-1 for Sun Valley, but coaxed three walks to score two runs. Teammate Andres Garcia was 1-for-2, with a run scored and an RBI.
"It was good to see it happen on our field," Sun Valley Coach Jaime Garcia said of the offensive outburst. "The kids played well, they're starting to understand more what to do when they get on base."
Sun Valley (0-9) returns to action tonight at Pasco.