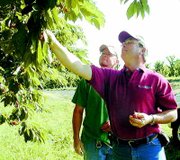 Cherry orchardists are assessing their trees today to determine the extent of damage from rain yesterday (Tuesday).
"It hasn't been the greatest weather day for us. Some growers have lost some fruit. There's been some problem with the Chelan variety, which is susceptible to rain cracking," David Severn, promotion director for Northwest Cherry Growers, said yesterday.
"But there's still a lot of cherries out there," said Severn, pointing out that growers north of Yakima and in the Wenatchee, Brewster and Okanogan areas, as well as in Oregon, did not get hit with the rain, which can be absorbed by the cherries, causing them to fill to the point of cracking and even bursting their skins.
"There's a lot of production areas doing just fine," said Severn, but added, "It will take a day or two to assess the damage south and east of Grandview, the Tri-Cities area."
Severn said he has had cherry producers reporting that they still have a manageable crop on the trees.
Dan Olmstead, whose orchard is in the Grandview area where rain hit yesterday, had been expecting to start picking tomorrow (Thursday).
"It seems there is some rain cracking in the Bings, and it's kind of hard to tell what percentage is damaged," Olmstead said yesterday afternoon as he walked among the trees assessing the rain's effect on his 140 acres of half Rainier and half Bing cherries.
This morning, after a walk through the orchard, Olmstead was predicting a 7 to 10 percent cull rate with damage confined to the Bings.
"We got just under a third of an inch of rain yesterday (Tuesday)," said Olmstead, noting that the downpour came in two showers.
"Fifteen hundredths of an inch fell between 3:30 and 7:30 a.m., and at the end of yesterday, by about 2 p.m., we had another 16 hundredths of an inch," said Olmstead.
"The lighter, riper trees look the worst, and there will be one tree with no damage next to one that had some splitting, so we may flag trees for picking. Do a little crop management," said Olmstead, smiling.
"It's just cherries. It's always something," Olmstead said, summing up the rain damage with a shrug.
In the final analysis, the Grandview grower, who has been a board member of the soft fruit commission for 25 years, agreed with Severn that there are still a lot of cherries out there for the market.
California cherry producers ran into some bad luck, with a lot of rain and a poor set early in the year.
"They'll be packing about a third or a quarter of their capability," Severn said.
A rumor floating around put early California cherry prices at $90 for a 15-pound box. That figure was confirmed by Roger Pepperl of Stemilt Growers in Wenatchee, the largest of Washington sellers.
"It was $90 quite awhile ago, but it's dropped considerably, depending on the quality," said Pepperl.
"The loss in California has created a very good demand for Washington cherries," said Suzanne Wolter of Rainier Fruit Company, which anticipates selling two million boxes of cherries raised on their orchards throughout the cherry growing region in Central Washington.
"The retailers are really ready for promotable and high quality cherries. There's a strong demand and the market is good, better than it has been in recent years," said Wolter.
Pepperl was hesitant to give a price for Washington cherries.
"The market's unsettled right now because of the rain and we're still wrapping up," said Pepperl, who was reached this morning while on the road in California.
He said Washington cherries were selling at $75 for 18 pounds of the largest sizes. "But it goes down from there into the 50s," he said. "That will change by tomorrow. There really is no market today."
Wolter said assessment is still taking place in the Rainier Fruit Company orchards that were hit by the rain, but she was in agreement with Severn and Olmstead that there are still a lot of cherries waiting to go to market.