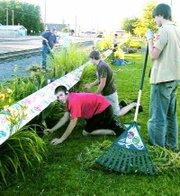 After undergoing written and physical tests on June 3, five men earned scores ranging from 145.43 to 181.15 to make them eligible for the three entry-level patrolman positions that will be filled by the Sunnyside Police Department in about three weeks.
The top scorers will not necessarily be the chosen.
Police Chief Ed Radder will make the final determination, using a method called the Rule of Three.
While Radder is required to make his first selection from the top three, he is not required to pick the highest scorer of the three. If he chose only one of the top three, the remaining two would drop down to form the next group of three, from which Radder would again select. And, again, it need not be the highest scorer in that group.
In theory, Radder could select the applicant with the lowest score.
Those who are being considered, and their scores, are:
-Scott Orate of Sunnyside, a Coast Guardsman still on weekend duty, scored 181.15.
-Alejandro Fernandez of Sunnyside, employed by Riojas Trucking of Toppenish, scored 177.44.
-Ryan Bruso of Yakima, a recent employee of the Yakima Fire Department, scored 177.05.
-Robert Layman of Moxee, a Yakima Police Department 911 operator, scored 174.97.
-Eric Garcia of Grandview, a Police Explorer with the Sunnyside Police Department, scored 145.43.
Applicants were required to score 69.9 on the written.
"All qualified well above that, and I intend to fill the positions I have from this list," said Radder.
The list of eligible applicants was made public last night (Wednesday) at a meeting of the City of Sunnyside's Civil Service Commission.
The commission members are Penny Ross, chairman, Mike Hughes and Gary Cole, who was on vacation and unable to attend the meeting held in the court room at the Law and Justice Center at 5 p.m. last evening.
Terri Rhode, the city's resource officer, is the Civil Service chief examiner, who acted as observer at the testing, which was conducted by police officers and volunteers recruited by them. She was also in attendance at the meeting last night.
Radder requested permission from the commission to begin another round of advertising and testing for entry-level patrolmen, a request that was granted.
"I want to expand the list. Some departments in other cities have continuing testing, but we haven't reached that point yet," said Radder.
He said there is a possibility that he will be looking for a fourth patrolman.
Radder told the commission members that he will be looking for a commitment of time from those he hires and some financial responsibility on their part for the necessary training.
"If one goes through the training academy and then quits our department we would be looking to recoup a considerable amount of the cost, but the longer one stays with us, the less pay-back we'd expect," said Radder.
. Frances Potts can be contacted at (509) 837-4500, or e-mail FPotts@eaglenewspapers.com