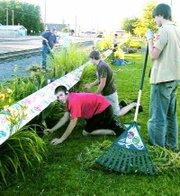 THOMAS J
THOMAS J. RADACH
Thomas J. Radach, 67, of Sunnyside passed away Tuesday, June 6, 2006, at his home.
He was born May 8, 1939 in North Dakota to John and Matilda (Huther) Radach.
He is survived by his wife, Helen Marie Radach of Yakima; two sons, Thomas Adam Radach and David Radach; two brothers, Robert Radach of Sunnyside and Fred Radach of Grandview; and two sisters, Ruth Taylor of Independence, Mo. and Irene Hall of Spokane.
He was preceded in death by his parents; one sister and one brother.
A memorial funeral service will be held Thursday, June 22, 2006, at 10:30 a.m. at the First Baptist Church, 406 E. Second Street, Grandview. Inurnment will be in Lower Valley Memorial Gardens, Sunnyside. Smith Funeral Home Sunnyside is in charge of arrangements.
More like this story