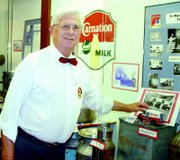 The door-to-door milkman may be a thing of the past, but Sunnyside resident George Johnson is keeping the memory of that trade alive in a display at the Sunnyside Museum, at Fourth Street and Grant Avenue.
Johnson, 76, delivered Carnation products ranging from milk to skin lotion for 26 years to an area that included locales between Toppenish and Grandview.
From 1960 to 1986, Johnson delivered to homes, stores, small businesses and day cares. His first 12 years, Johnson drove a Carnation truck. Carnation got out of the milk delivery business in 1972, so Johnson continued to deliver Carnation milk as a private contractor.
"I liked getting up at dawn and taking in a breath of fresh air," he said of his longevity in the business.
In 1986, Carnation decided to close its bottling plant-now the site of Apex Winery-for good.
That, Johnson said, was a moment of mixed emotions for him. While he missed the people on his route, Johnson noted the milk business had become so competitive that he was barely earning a profit.
"It was a relief when it closed," he admitted.
During his career with Carnation and at garage sales in the area, Johnson has maintained a connection with Carnation through collecting memorabilia such as milk bottles, old photos and even a Carnation milkman uniform.
Johnson and his wife Carol spent a couple of months assembling the items in preparation for last year's Pioneer Picnic.
The display was so well received that the Sunnyside Museum provided a glass case the length of one wall to house it.
This Saturday the Pioneer Picnic will again be held at Central Park in Sunnyside.
Johnson will be there too, only this time he will welcome visitors to the museum at about 10 a.m. Saturday to share his milkman memories in this the 20th anniversary year of the Carnation plant's closure.