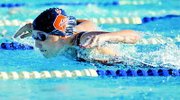 GRANDVIEW - After being blown out of the water by Prosser on Tuesday night, the Grandview Neptunes won their first meet of the season over Selah, thanks in part to a strong performance by Kinzi Poteet, 403-312. The victory gives the Neptunes a 1-1 record in the Mid-Valley Swim League.
Poteet won five events in the 14&U age group, starting with the 40-yard butterfly. She again held off Selah swimmers in the 40-yard breaststroke. She finished first in the 40-yard backstroke and first in the 40-yard freestyle. In the 160-yard IM she finally had some Grandview company in the event. Nicole Charvet came in fourth to Poteet's first place finish.
In the 14&U boys group, Ryan Contreras, Trent Mottice and Brian Michener all contributed to helping Grandview with the victory.
Contreras finished first in the 40-yard butterfly, followed by Michener in third.
Michener won the 40-breaststroke event and Mottice and Contreras finished 1-2 in the 40-yard backstroke followed by Michener in fourth place.
Michener won the 160-yard IM and Contreras and Mottice took the third and fourth spots.
Grandview's Taylor Hall, swimming in the girls 10&U group, swam consistently in four events, winning the 40-yard breaststroke and anchoring the 160-yard freestyle relay team to victory. She finished fourth in both the 40-yard butterfly and the 40-yard backstroke.
"We were very consistent," Neptune Coach Rhonda Penwell said. "Selah's a difficult team to compete with. They're close to Yakima so they have a lot of year-round swimmers."
Grandview's Kara Phillips also swam well for the Neptunes, placing in five events and winning two.
Phillips won the 12&U 40-yard backstroke and anchored the girls 160-yard medley relay team to a win. She finished in second place in the 40-yard freestyle and took third in the 160-yard IM. Phillips earned a fourth place finish in the 40-yard breaststroke.
"She's been working really hard in practice," Penwell said of Phillips. "She's in a really competitive age group and if you're placing consistently, that says a lot."
The Neptunes will next swim at Toppenish on Tuesday, June 20, at 6:30 p.m.