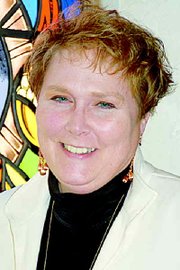 Holy Trinity Episcopal Church at Fourth Street and Edison Avenue in Sunnyside recently welcomed a new priest, the Reverend Debora L. Jennings, who will also serve congregations in Zillah and Prosser.
Jennings, 52, has been an ordained minister in the Episcopal church for the past 13 years. She said she knew the ministry would be her calling from a young age.
"When I was a little girl I used to set up dolls and teddy bears and preach to them," Jennings said with a smile.
Prior to completing her studies and becoming an ordained priest, Jennings said she served for many years as a lay, or volunteer, minister. That included service as a lay chaplain at Arizona State University.
Today the Arizona native preaches to parishioners during liturgy services each Sunday.
But the task of a priest goes beyond that.
"A large part of what I do extends beyond these walls," Jennings said of her experiences, ranging from leading church retreats, to composing music and being a published author.
Jennings, who moved here after serving eight years with St. Jude's Episcopal Church in Cedar City, Utah, said she originally considered a career as a surgeon.
"I probably would have been a good one too," she said. "But that wasn't my passion."
Her passion these days is working to increase the stature of the Episcopal church in the Lower Valley.
Jennings said that Holy Trinity, in particular, could open its doors for more community-related events.
She said, for example, that while serving in Utah the congregation there opened its doors for a multi-denominational prayer service following the terrorist attacks on Sept. 11, 2001.
Noting that she doesn't like to see a church building sit vacant "six days a week," Jennings envisions Holy Trinity and its historic chapel as outlets for concerts and other community gatherings.
She also expressed interest in having Holy Trinity's flower garden opened to the public during lunch hour for meditation and what she calls contemplative prayer.
"We usually spend so much time talking to God in our prayers that we don't take time to listen," Jennings said. Contemplative prayer, by contrast, is a time of quiet to listen to God, she said.
During Lent, Jennings suggested the Sunnyside church could host a "Bach's" or "box" lunch. "We could have an organist play Bach for a half hour, and the other half hour we could all eat a box lunch in the garden," she explained.
With that said, Jennings noted her first priority is to get better acquainted with parishioners and work on helping the church grow, "not just numerically but spiritually".
Jennings' first significant introduction to the community will be a "celebration of new ministry" service that Holy Trinity will hold on Sunday, June 25, at 4 p.m. Presiding at the ceremony will be the Episcopal church bishop from Spokane.