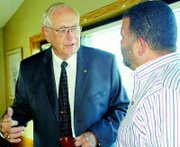 Running opposed for the first time since 1998, 15th District State Sen. Jim Honeyford (R-Sunnyside) launched his re-election campaign this morning during a breakfast fundraiser at the Sunny Spot Restaurant in Sunnyside.
Honeyford said his campaign platform will build on a combined 12 years of experience he has in the State House and Senate.
In addition, Honeyford said life experience such as being a police officer and a Sunnyside city councilman also play a part in his past accomplishments.
Democrats Tomas Villanueva of Toppenish and Glen Pinkham of Wapato-who will face off in the September primary-are both campaigning for Honeyford's seat in Olympia.
While noting he will have to raise more campaign funds than if he were unopposed, Honeyford noted, "It makes it easier to get people involved when there's an opponent."
And Honeyford said he will need help from his support base, such as this morning's breakfast.
He said his primary goals for today's kick-off event was to raise funds and get his supporters involved in putting up campaign signs.
Honeyford said his track record of appearing at events while running unopposed will continue now that he is opposed.
"We'll get out there and meet the people," he said.
The outcome from the breakfast, signs and campaign that Honeyford and his supporters hope for is a return to Olympia.
"The major thing we need to work on is water legislation," Honeyford said of the next legislature's priority.
Specifically, he would like to see state lawmakers revise "use it or lose it" water right laws now on the books, which require a water right owner to use their water right or put it into a trust within five years or lose it.
"We need to address that for our farmers," he said.