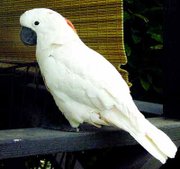 YAKIMA - On Wednesday, May 31, Goober, a Salmon Crested Mulocca Cockatoo, was stolen from the front porch of Rene and Alina Green. Two men walked right through their gated front yard, and up onto the porch.
They proceeded to take Goober and his cage, a large black dog kennel with a padlock, and threw it into the back of their black convertible.
As they sped away and turned into an alley, Goober's cage flew out of the car and flung him from his cage. His feathers were lying all over the pavement. A woman who lived nearby heard the criminals telling each other to grab the bird before they sped away, leaving the cage behind.
As the woman was making the police report, the bird thieves came back in a blue SUV and grabbed the cage.
When Rene and her daughter Alina found out that Goober had been stolen they were devastated. He had been a part of the family for eight years, and for a cockatoo, that is like being a child. Some cockatoos live to be 90. He thinks he is person. He cuddles and struts, and he knows he is pretty. Goober is an invaluable member of the family they were desperate to find.
They posted fliers from Tieton to Ahtanum, and with the help of local citizens the fliers made it from Sunnyside to Ellensburg. The community started a donation of a $150 reward for Goober. One local vet offered free services if Goober needed them when he was found.
The search started to feel hopeless as they received several leads that went nowhere, and had people prank call them, but they did not give up hope.
On Wednesday of this week they received a phone call from an unnamed woman who told them she had the bird.
Goober had been sold the same day he was stolen, to a woman with many exotic birds. She took very good care of him and her son became very attached. Tragically, the son was in a fatal car accident on June 6. As it turns out, Rene knew the young man.
"Everything seems to come full circle," said Rene. Out of this tragedy, Goober was brought home, where he cuddles up to Alina contentedly.