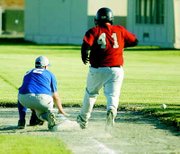 A tight game was broken open in the seventh, and final, inning as the Sun Valley 14/15-year-old Babe Ruth baseball team fell 17-10 at home last Friday to Richland Milestone.
Richland jumped on Sun Valley early and held an 8-3 advantage heading into the bottom of the sixth inning.
The Sunnyside club seemingly got back in the game with four runs in the sixth, keyed by five walks issued by Milestone pitching.
That pulled Sun Valley to within 8-7 heading into the decisive seventh.
But a combination of Richland hitting-the Milestone club collected 17 hits on the day-and some miscues in the field led to a nine-run rally that put the game out of reach at 17-7.
Only four of Richland's runs in the seventh were earned, noted Sun Valley Coach Tom Schmick.
Sun Valley still had some fight left, though.
The club wasn't able to make up all 10 runs in the final inning, but did produce a three-run rally to close out the contest at 17-10.
Angelo Salinas paced Sun Valley at the plate, recording a 2-for-3 day with three RBI. "He had some clutch hits for us," Schmick observed.
Teammate Matt Omlin was 1-for-2 with two RBI, and Jonathan Hysell was 1-for-1.
"They kept fighting, clawing and coming back," Schmick said of his players' rallies against Richland. "One thing about this group is they keep scratching away."
Sun Valley (7-5) will look to scratch out a win today at Pasco.