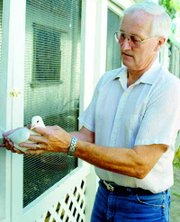 OUTLOOK - "I've always liked things with feathers," retired dairy farmer Henry Ebbelaar muses as he greets some of the 300 or so pigeons and doves he and wife Jeannette own at their Outlook farm.
That interest prompted Ebbelaar, 68, to start his collection of birds 50 years ago. About 15 years ago, he says, he began raising Homer Racing or Fancy pigeons, a white feathered bird that closely resemble doves.
In fact, a bird novice may have a tough time telling the two apart. Except, that is, when they take to the air.
"Fancy pigeons have a lot more stamina and can fly further," Ebbelaar explains.
Another big difference, of course, is the pigeon's ability to fly back home after being released.
That has led Ebbelaar to create a special niche in the Lower Valley. As much, or more, hobby as it is business, Ebbelaar releases his white pigeons at ceremonies throughout the area.
Whether it's releasing them at weddings-"Pigeons mate for life," Ebbelaar says of their symbolism-or at funerals-"It's comforting for people to see them take flight like a dove, like the spirit of their loved one," he says, Ebbelaar and his birds are in popular demand.
And sure enough, he adds, the white birds know their way back home.
But getting birds of a feather to flock together in Outlook is not as easy as it appears.
The pigeons, who can fly up to 60 miles per hour, have an innate ability to return home. But Ebbelaar says he starts training them at about six months, beginning with short trips just a mile or so from home.
The birds eventually graduate to homing trips from Yakima to Outlook. For some events, like a coming wedding at Whistling Jack Resort high in the mountains above Yakima, Ebbelaar may make as many as 10 trips to Yakima, and beyond, with his birds just to make sure they make their way back home.
They don't always make the return flight, however.
"Here's a pigeon from Redding, Calif. that was released in Wenatchee," Ebbelaar nods toward a greyish bird that he gingerly gathers into his hands. "There was a storm and it lost its way."
Ebbelaar says he, too, has had pigeons that didn't make it home. There is a nationwide trend, he adds, of an increasing number of birds not making it back to their home nest.
Sometimes it's because a bird finds its way into a flock of wild pigeons.
But technology may be playing a part, as well.
"There's some research underway to see if the losses are because of high radio frequencies from cell phones," he notes.
While there are some things out of Ebbelaar's control, such as weather and cell phone technology, he takes every precaution to make sure his birds are well tended to at the home roost.
"I make sure they are vaccinated and I treat them for lice," he says. "It's important to treat the birds with respect."
And it's not only the birds-as well as spectators-who benefit from the arrangement.
"I'm a school bus driver," Ebbelaar smiles as he gazes at a neat row of white birds perched along the roof of his house. "Working with the birds when I get home relaxes me," he adds. "They are no trouble at all."