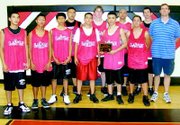 Like their varsity counterparts from the weekend before, Grandview claimed top honors at last Saturday's Sunnyside High School JV Boys Basketball Tournament.
The JV Greyhounds gave the Grandview boys basketball summer prep program its second straight tournament title by topping the nine-team field in Sunnyside. The prior weekend in Sunnyside, Grandview's varsity squad bested all comers in earning the tournament title.
Grandview's junior varsity won the first place trophy this past weekend by clipping the host Sunnyside JV, 66-60, in Saturday evening's championship game.
For the JV Grizzly squad, the title game loss was its only defeat in the seven tourney games it played. Each contest consisted of two, running 20-minute halves.
The Sunnyside JV advanced to the championship game with a 51-46 victory over the Selah JV in Saturday evening's semi-final game. Billy Davila pumped in a team high 15 points against Selah.
The JV Grizzlies opened single-elimination play with a 48-46 quarter-final win over the Mabton junior varsity. David Khansila had a team high 11 points for Sunnyside in that victory.
In pool play earlier in the day, the Sunnyside JV ran its record to 4-0. The team's victories included wins over the Wapato JV (59-25 with Davila scoring 15 points), the Granger JV (73-22 with Matt Santoy scoring 22 points), the Goldendale JV (78-41 with Khansila scoring 13 points) and the Grandview freshman squad (43-42 with Santoy scoring 16 points).
In the 66-60 championship game loss, the Sunnyside JV was paced by Santoy and Davila with 13 and 10 points, respectively.
Sunnyside's incoming freshmen made up one of the nine teams entered in last Saturday's tournament, and surprisingly, they earned third place honors.
The Grizzly underclassmen compiled a 2-2 record in pool play. Both their wins came against the Mabton JV, 50-47 and 42-39 decisions. The Sunnyside ninth graders' losses were to the Selah and Grandview junior varsity teams.
In the single-elimination trophy round, the Grizzly freshman squad opened with a 56-50 win against the Wapato JV. James Sanchez had a team high 10 points for Sunnyside.
In the semi-finals, the Sunnyside freshmen fell to the eventual tourney champion Greyhounds, 70-45. Sanchez and Efrain Silva each threw in 10 points in the losing cause.
That loss sent the Sunnyside ninth graders to a consolation round game to determine the third and fourth place tourney finishers. In that contest, the Grizzlies soundly defeated the Selah JV by a 55-41 score. Kennedy Sarmiento and Leo Cuellar each tossed in 7 points to lead Sunnyside to the victory.