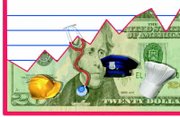 The Yakima County job economy may not be booming along at the state's rate of adding 3.3 percent jobs over the past year, but it is "on solid footing," said Don Meseck, a regional labor economist for Washington state.
In figures released this week by Meseck, Yakima County added 1.2 percent more jobs than at this point last year, almost three times less than the state average.
The bright spots in local job growth, he added, include the health service and construction industries, which enjoyed 18.9 and 5.2 percent more jobs, respectively, over the past 12 months.
"The economy overall is doing quite well right now," Meseck said of Yakima County. "The encouraging thing is not too many industries are losing jobs."
One of the few job sectors to see a decline, he added, is in fruit packaging, which he attributed to a slightly reduced apple crop in 2005.
"Looking overall at Yakima County, the economy is not booming but doing well," said Meseck. "The county's economy is on solid footing and we have respectable job growth rates in Yakima County."
Industrial growth is one factor helping the Lower Valley's job economy, noted Mark Rodriguez, interim operations manager for WorkSource Sunnyside.
"We're heavily dependent on agriculture," he said. "But the Yakima Valley is blessed with major industries."
Rodriguez said the area's "trainable, hard working, dependable work force" is a drawing card for employers.
He noted, for example, the Shonan USA plant in Grandview, which he said has brought "30 to 50 jobs" to the local economy.
The Wal-Mart Distribution Center, also in Grandview, is adding hundreds of jobs to the Lower Valley economy.
Rodriguez said that has not only turned into more jobs, but higher wages.
"The distribution center starts people at $12.15 an hour, and everyone has the potential to move up the ladder," said Rodriguez, adding he knows of workers there earning up to $18 and $20 per hour.
In the retail sector, Rodriguez said jobs are stable. Though retail jobs may start at the Washington state minimum wage of $7.63 per hour, Rodriguez said some stores offer performance-based raises that can bring a person up to $12 to $14 an hour or more.
An attached chart shows the average annual wages for a variety of jobs in this area. For point of reference, the average annual wage in Washington state is $40,385.