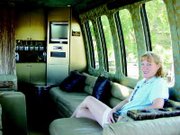 PROSSER - A new business in Prosser offers wine lovers a safe way to enjoy the wines of local wineries.
Paul and Kerry Warden of Prosser started their wine tour business, Sunset Coach Tours, last August. Kerry describes their business as, "We offer a safe, comfortable and economical way for tourists and locals to meet new friends and discover new wines."
They moved to Prosser from Vancouver, Wa. 10 years ago and found that their love of wine grew rapidly, eventually evolving into a new way of life.
To further her knowlwedge, Kerry is currently attending a wine appreciation class where she is learning about the history, farming and health aspects of grapes.
The couple offers the only wine touring business in the Prosser area and they are hoping to open a bed and breakfast, The Sunset House, in conjunction with their touring business this fall. They already have two rooms completed and are in the process of finishing two more.
The Sunset House will offer gorgeous, panoramic views of the valley, and on clear days Mt. Adams and Mt. Rainier can be seen. A continental breakfast will be offered with cheese and wine at night.
Tours are directed toward people who have a true desire to learn about wine. Large groups are encouraged to charter the bus for an entire day of wine and relaxation. "Wine tours should be fun, not stuffy," explains Kerry. "People should never not feel old enough, not educated enough - we will help them feel comfortable."
The limo-bus, which was bought in Sonoma, Calif., was used by NBC studios during the 1996 Atlanta Olympic Games, where it was used as an executive lounge.
Adding to the carefree atmosphere, it has a flat screen TV, Sirius satellite radio, appetizers and complimentary gifts.
For the educational entertainment of the passengers they play a DVD produced by local wine lover, Kirk Burpee. The documentary covers the history and geology of Washington wines.
Kerry and Paul Warden both drive the limo-bus and offer charter tours throughout the week and offer groups of two the opportunity to go on tours on Saturdays. They pick up customers at Prosser hotels and bed and breakfasts.
Tours are offered for the Yakima Valley, Red Mountain, Columbia Valley, Horse Heaven Hills and the Walla Walla Valley.
Their wine tours branch out from just showing wineries. They incorporate Prosser businesses, such as Chukkar Cherries or Bonnie's Vine and Gifts, and help promote the local economy. "It is important to support each other and encourage new ideas," said Kerry.
To charter the limo-bus or obtain more information contact the Wardens at 1-800-941-2941, 509-303-0355 or on the web at www.sunsetcoachtours.com