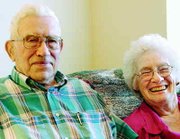 Helen Orr, 83, and Ken Taylor, 93, together have given 129 pints of blood to the American Red Cross, blood that has helped 387 people over the years.
Orr has never considered where the blood she's donated to the American Red Cross goes. Taylor didn't realize that each unit can be used for three different purposes, thus tripling the effects of every unit he donates.
"I never even thought about where it goes. Just wherever it's needed," said Orr, who scarcely ever misses a blood drawing in Sunnyside.
"Every time they have a drawing, I'm there if I'm in town," she said.
"I gave blood some before I was married 10 years ago," said the 93-year-old Taylor, who has stepped up his donations since.
"I thought it was a good thing to do. It gives you a feeling you have helped somebody, and hope maybe you saved a few lives, too," he said.
Orr can't even remember when she first started giving blood.
"I just started donating through one of the drives they had. It's a way I could help. I might be able to help a few people," she said.
"That's a small thing for people to do really, people who can give blood. I might need blood myself some time," she said, noting that so far in her 83 years she hasn't had that need.
Taylor's wife of 10 years, Pearl, has been a long-time donor, too.
"I've been giving for years and years. I started when I was in the Coast Guard in 1944," said Pearl.
"Then I got high blood pressure and he," she said, tipping her head toward Ken, "told me I couldn't give any more."
Pearl's last donation at a Red Cross blood drawing was about three years ago when she was 83.
Taylor said he sees nothing special about a 93-year-old man driving himself to the blood drawing to donate a unit of blood.
"He fishes; he bowls. He had a 279 game one day," said Pearl.
Orr said she does nothing special to prepare for giving blood.
"When Red Cross calls to remind me of a drawing, I drink a lot of fluids before, and the only iron I take is whatever I get in a daily vitamin," said Orr, who recalled that she once was turned down as a donor because of lack of iron.
"The woman who tested my blood said, 'Honey, you haven't been eating your Cream of Wheat, have you?' Cream of Wheat has iron and calcium in it," said Orr, laughing.
She must put Cream of Wheat on her regular diet now, because Orr can't recall any other time she has been unable to give blood.
Red Cross accepts walk-in donors, but encourages donors to make appointments by calling toll-free 1-800-448-3543.
"It used to be tiresome to wait an hour at the drawing, but now they have the schedule down pretty good. You make an appointment and they keep to it pretty well," Orr noted.
A sprightly 83, Orr is a regular volunteer at Sunnyside Community Hospital in the intensive care unit, where she runs errands, records statistics or answers the phone to take pressure off the nurses, or in the medical records department, where she enters information on newborns into the computer for Olympia.
An early retiree at age 58 after working 26 years for a freight company in Sunnyside, Orr enjoyed 18 years traveling with her husband, John W., before he died in 1996. In addition to filling her free time with hospital volunteerism, Orr is active in the Church of God, where she serves as treasurer and on the board of trustees. Her various committee appointments include a Father's Day breakfast where she will, she said, "just do anything that needs to be done, cooking, whatever. We all pitch in."
Taylor, who retired in 1979 from Twin City Foods in Prosser, said walking may account for his good health and ability to still be able to help others through blood donations.
Taylor and Orr, who are not acquainted with each other, will both be at the June 27 blood drawing in Sunnyside. Taylor said he hopes more people turn out for this one than have in the past.