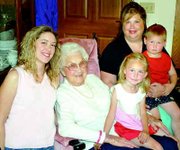 The Titanic was still under construction when Erma Miller was born in 1911.
Two world wars and a man on the moon later, the Sunnyside resident is preparing to celebrate her 95th birthday today with family.
A quick recall of Miller's favorite memories reads like an American history text book:
Her first car?
"It was a 1935 Model T touring car," she said.
Her thoughts on the first man to walk on the moon?
"That's the same day my oldest grandson was born!" she laughed.
Most important innovation in her lifetime?
"The airplane. A lot of people probably wouldn't agree with me, but it's done more to move people around." Miller's first trip on a plane was not only memorable-"The food was so good!" she enthused-but also represented a sobering milestone as she was traveling to her mother's funeral.
The Kansas native said she and her husband Robert moved out west from Oklahoma to Bremerton in December 1941, just days after the Pearl Harbor attack.
"We wanted to see the water," she said. After working in the Bremerton shipyards for a few years, Robert went on to a career with Puget Power before he died in 1986.
A rarity in her day, Miller, too, enjoyed a career outside of the home. She taught primarily English and social studies to junior high students for 35 years, retiring 30 years ago at the age of 65.
Miller's teaching career included a hiatus as she went back to college for her degree after starting a family.
"I think grandma has been a role model," granddaughter Cindy Boast said admiringly while visiting Miller this week at her home in Sun Terrace. "To have a career and a family in those days was rare," Boast noted. "But for her to go back to school to finish her education just shows her determination."
Miller's example as a hard working, prim and proper lady is also worth emulating, said great granddaughter Amanda Tobin.
"She's very elegant, well put together," Tobin said of Miller's detailed daily routine.
Miller, herself, credits hard work and "clean living" as the keys to her long life.
Those high expectations also extended to Miller's children and the generations to follow. "She always told us to put our nose to the grindstone," recalled Boast. "She had high standards for us."
Speaking of generations, Miller has three daughters plus a foster son, along with nine grandchildren, 17 great grandchildren and seven great, great grandchildren.
One of the great, great grandchildren is Calla Tobin, born just weeks before Miller's 90th birthday.
Her high expectations for present and future generations likely stems from Miller's own childhood.
"My father died when I was four," Miller said. "We grew up doing without everything. We had some cows and chickens, but we had to sell the eggs and cream to get by."
A reminder of those days, Miller still has in her possession a raggedy burlap doll that served as her first toy.
Just this past year, Miller-with burlap doll and all-moved from Bremerton to Sunnyside to be closer to family she has here. "I miss the water, but I'm so proud of my kids," she said with a beaming grin.
The seeds of love and dedication Miller planted in her children and children's children have reaped that same love in return. "We're taking her to Whistlin Jack for her birthday," Boast smiled.
With five generations of love to go around, though, not everything is perfect.
"I have to write down everyone's names with pen and paper," Miller giggled. "I've tried every other way to remember all their names, but that's the only one that works!"