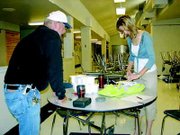 MABTON - Accidents requiring emergency care can happen anywhere and anytime. The response time to any emergency can be the difference between life and death. Communities in rural settings have an even longer wait so school officials in Mabton made their district safer with the addition of three automatic external defibrillator (AED) units, according to a press release from the Mabton School District.
With the arrival of the AED units, the first responder to an emergency can begin immediate CPR by using the unit. The AED gives automated, step-by-step instructions on CPR so even those not trained in the method can give emergency aid until paramedics arrive.
The press release stated the portable units are effective and will allow even those individuals who are hesitant about initiating CPR, the confidence to perform the life saving procedure thanks to the clear spoken and visual instructions in the technique.
The school district was able to purchase the AED units because of a grant researched and written by former Mabton School Nurse Heather Case. She contacted the U. S. Department of Education seeking an Emergency Response Crisis Management Grant when she learned rural school districts qualified for the purchase of the AED units. With the help of Bill Roettger, a Mabton School District facility advisor and current fire chief for Mabton, Case was able to secure the grant in order to provide improved emergency medical response time in the community.
Approximately $2,500 was spent on the units and they were installed at the end of the recent school year. There is a unit at Artz-Fox Elementary School, Mabton Jr./Sr. High School and the main district office.
Training will begin at the start of the 2006-07 school year. School officials said priority for training will be given to physical education teachers and coaches. Building administrators and special education staff will also receive training.