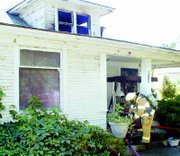 A Sunnyside house, believed to have been built in 1910, was destroyed in a fire yesterday morning at 922 Cemetery Road.
The house originally stood in the 900 block of Edison Avenue, at the current location of dentist Jim Stevens' office, before it was moved to Cemetery Road in 1975.
Fire District 5 Lieutenant Antonio Castillo said the blaze began at about 9:30 a.m. yesterday in a downstairs bedroom. The probable cause of the fire, he said, was an extension cord that became overheated.
In addition to stations 12, 13 and 14 of District 5, the Sunnyside Fire Department also responded to the blaze.
A portion of Cemetery Road was closed until about noon yesterday as more than a dozen fire rigs were at the scene to battle the blaze.
Castillo valued the loss at $70,000 to $75,000. Based on the dollar amount, he said it is likely the house will be a total loss.
There were no injuries in the fire, as a renter in the home, Rachel Baisa, was at work at the time of the fire.
Home owner Mae Monroe said, if possible, she would like to repair the historic house to its original form.
"It all depends on the insurance now," she said as she watched firefighters mop up the extinguished fire. Monroe said she has partial insurance coverage and that Baisa does not have renter's insurance.
If the house is beyond repair, it would be another historic loss for Sunnyside, said Dr. Stevens, a former owner of the house.
"Here's an historic part of our community that we're losing," he said. But, Stevens added, it's not the first to be lost.
Listing examples such as an Andrew Carnegie library torn down to make way for the current Sunnyside library, Stevens noted, "We're losing the historic fabric of our community."
Though, according to Stevens, many of Sunnyside's older homes and carriage houses have fallen into disrepair, he praised the Monroe family's care of the home destroyed in yesterday's fire.
"They were good caretakers of that house," Stevens said. "It was just an unfortunate happenstance."