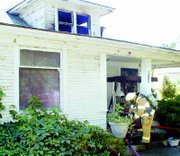 Expressing pride in Lower Valley Hospice's work in providing treatment for the terminally ill, Executive Director Joel Stephens yesterday noted the agency treated 111 patients in 2005.
Stephens' comments came during an annual meeting for Lower Valley Hospice board members held yesterday in Sunnyside.
The meeting, which summarized hospice activities and funding for 2005, was also an opportunity for Stephens to note the variety of terminal illnesses Lower Valley Hospice responds to.
Saying many people associate hospice care with cancer, Stephens pointed out that 33 of the hospice patients in 2005 were cancer-related. "We're seeing many different end-of-life illnesses," Stephens told board members.
For example, he noted that in 2005 a total of 22 patients were seen who had neurological/sense organ diseases and 17 had cardiovascular disorders.
In looking forward, Stephens said Lower Valley Hospice is partnering with oncologists in Yakima in an attempt to reach terminally ill patients earlier. In 2005, 48 percent of Lower Valley Hospice's patients died within the first 30 days of care.
In addition, hospice staff members are receiving training in administering palliative care to children. "They are much more fragile," Stephens said.
As far as Lower Valley Hospice's bottom line for 2005, the agency had total revenue of $1,411,829. A large portion of that, Stephens noted, comes from the Medicare Hospice Benefit program. Another 8 percent is generated from donations, he said.
The agency's expenses in 2005 were $1,401,896, for a net income of $9,933. Of expenses, nearly $1 million ($978,783) was in direct program services.
.