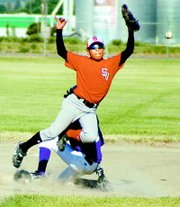 The Sun Valley 13-year-old Babe Ruth baseball team broke out the bats early, but fell short in a 17-7 home loss to Pasco yesterday.
Keyed by a two-RBI base hit by Andrew Daley, the Sunnyside team pushed across three runs in the first inning.
After two innings Sun Valley was right in the thick of things, trailing 6-3.
That's when Pasco all but put the game out of reach with a six-run outburst in the top of the third.
"It was a little bit of everything," said Sun Valley Coach Jaime Garcia. "We gave them some walks, we had an error, they had some hits."
Trailing 12-3, Sun Valley made another run at Pasco with three runs in their half of the third to make it a 12-6 game. Alan Loera keyed the rally with a two-run base hit.
But Pasco outscored the Sunnyside club 5-1 in the fourth and fifth innings to close out the contest early due to the 10-run rule.
Daley and Loera were both 1-for-3 at the plate, with two RBI each.
Isiah Ferrer was also 1-for-3, with one RBI for Sun Valley.
Sun Valley (0-12) is home again tonight at 5:30 p.m. to host Richland.
.