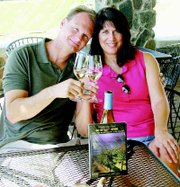 Washington wines have fast become very sought after. It could be due to the fact that Washington has some of the best soil in the world for growing grapes, or possibly that the people of this state believe that the wine business is vital to the economy. Either way, people in Washington are passionate about wine.
Kirk Burpee and Kathy Hall of Kennewick are so passionate about wine that they moved from Seattle and made a documentary about Washington wines.
"Washington State: Get the dirt on wine" is the product of a passion for wine that is viewed in an informative manner. They are inadvertently educating people, though that is not the main goal of the interactive documentary.
They had two purposes in mind when they made this movie.
First, they wanted people to drink Washington wine, and not just try one bottle, but try many different types of wines from the different regions this state has. They wanted people to compare wines with the mind-set that wines are different from one another, not better or worse.
Second, is to get people to visit Washington wine country. It is a vast area ranging from Seattle to Walla Walla, with each region having its own defining flavor.
Burpee has worked in wineries and vineyards for 4 years and Hall has been a really good consumer for 15 years. They met at a wine tasting.
They have spent the last two years of their lives working side by side non-stop to create a movie that will be easy enough for wine amateurs to understand and enjoyed by connoisseurs as well.
"People want to buy wine, but they don't know what to buy, they go into a store and are looking at miles and miles of bottles," said Kathy. Their documentary makes those leery of buying wine more comfortable because the movie encourages people to get out and try wines and not worry about knowing the terminology.
Most importantly, their documentary is to be seen as an adventure. "Vineyard guys are the quintessential risk takers," said Hall. As are Burpee and Hall, who made this documentary by learning along the way. "Every bit of business is based on a handshake," said Burpee, which in the movie making industry can be extremely risky.
They drove 42,000 miles in the last year, never leaving Washington State. They went to wineries and vineyards all over the state. At first, Burpee and Hall were met with some resistance from the wine industry as they weren't seen as qualified enough to make a documentary about Washington wines. Any time they were met with resistance Dave Hughes of Five Stars Cellars and Rob Sullivan of OS Winery helped them out. Now, after seeing the finished product, those who resisted at first are more accepting now.
The entire process was a learning experience. Hall wrote the scripts and held the microphone while Burpee filmed the footage. They interviewed everyone themselves. They had help from many people in the movie industry and chose contemporary music. The lead singer of Candlebox and many others make an appearance on the DVD. There are links on the documentary to the music.
There may be another documentary in the future. "We hope to see the movie as a catalyst because it connects all aspects of wine growing," Burpee said. The DVD has just been released this past week and can be purchased online. For more information go to their website, www.wawineconnection.com.