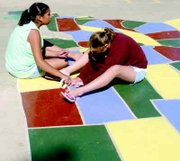 Junior Girl Scout Troop 393 of Sunnyside has been busy for the past week repainting a portion of the sidewalk that has a map of the United States on it at Washington Elementary School.
The map was faded and some states were missing from the original painting. They started working on painting the map this past Tuesday, and finished yesterday.
The girls taped completely around each state and painted the states on Tuesday and painted in the borders on Thursday. It is brightly colored and now has the correct number of states. Future projects for the playground may involve repainting the hopscotch lines and other various tasks to spruce up the playground for the students of Washington Elementary.
Throughout the year the girls sell cookies and candy to buy supplies for community service projects such as this. By completing this they will receive their bronze awards, which is the highest honor in Junior Girl Scouts.
Most of the girls have been together with Girl Scouts since they were in kindergarten. Linda Schademan and Darla Van Corbach are leaders for the group and have older daughters in Girl Scouts as well.
They provide services to the community by painting over graffiti, picking up garbage and making Christmas decorations for nursing homes.
Next week, the girls are planning a horse campout and in July they will be attending a ropes course in Benton City. A ropes course is for the girls to learn to trust each other through obstacle courses that require them to work as a group in a productive manner.