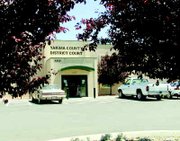 GRANDVIEW - About 1,600 cases have been heard in Lower Valley District Court since it opened March 1, 2006 in Grandview.
The court opened with Judge Donald Engel of Sunnyside presiding. In April Judge Mike McCarthy, one of four judges who will rotate service on a three-month basis, took over. In July he will be replaced by Judge Rod Fitch.
Judge Kevin Roy is the fourth judge, who will take a turn on the bench in Grandview. All but Engel are from Yakima.
The return of a branch of district court to a Lower Valley site has been a boon to those who would have had to make the lengthy round-trip to Yakima to make an appearance at District Court.
The extensive remodel at 1313 West Wine Country Road in Grandview included construction of a judge's chamber, to be used by whichever judge is presiding, along with offices for two probation officers, Vickie Ibarra of Yakima, who deals with adults, and Matt Scott, who works with juveniles.
"The office here has made things easier for us," said Scott. "To have a physical space and a computer that's just for us is very helpful."
Scott said he spends four out of his five days a week on the road to make home visits and random contacts to be sure the juveniles are in compliance with their probation. He said he uses the Grandview office mostly "just to catch up on case notes and access the computer," although appointments are sometimes held there.
He said at this time he has a case load of about 60 juveniles from the Toppenish, Zillah, Grandview and Mabton areas.
Another who drops into district court as needed is Yolanda Lopez of Yakima, who is the court interpreter. She is available when court convenes on every even-numbered Monday and every Tuesday and Thursday, starting at 9 a.m.
Beginning in July, an additional court day, Friday, will be added to accommodate additional cases that will be defended by Attorney Tyler Everett, who will join Michael Mears and Randy Cahn, the other district court-appointed attorneys. Of course, attorneys who have not been appointed by the court also serve their clients at the Grandview site.
Two full-time employees-a court clerk, Leslie Ely of Prosser, and a financial specialist, Elva Castilleja of Sunnyside-hold down the fort at the Grandview courthouse from 8:30 a.m. to 4:30 p.m. Mondays through Fridays. Their office is closed from noon to 1 p.m. every day for lunch. Castilleja is available to take payments, and she files lawsuits and answers the phone.
The court at Grandview also has a jury room, but it has yet to hear 12 peers debating a case.
"We haven't started hearing jury trials here yet, but it's there for when we do," said Castilleja.