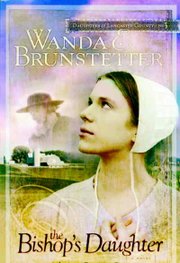 Wanda Brunstetter of Wapato, whose books about Amish life have become bestsellers, will sign her newest book in Toppenish at the Amish Connection on the 4th of July beginning at 10 a.m.
The Bishop's Daughter is the third in a series that includes the Storekeeper's Daughter and the Quiltmaker's Daughter.
Brunstetter's first book took off like a kite in a high wind without any publicity at all, according to Jessica Dotta, publicist for Barbour Publishing, which produced the book.
"She has become a beloved and best-selling author writing about the peaceful, simple life of the Amish community," said Dotta.
In fact, Brunstetter said she just found out that the Storekeeper's Daughter is being considered for the Christian Retailers Award. Both of her books have been on the Christian Bookseller Association's best seller list.
In my opinion, this is definitely a book for a select audience. By page 15 Brunstetter had mentioned God 12 times, church 11 times and introduced 35 characters, most of whom add nothing to the plot. A preachy little message can be found on almost every page.
The plot is transparent and worn (a kidnapped, Amish child, who grows up not knowing he was "adopted" but searches for his roots and...falls in love with an Amish girl, who isn't allowed to marry a non-Amish. Guess what happens!)
I like a novel that digs into a story with plots and sub-plots-layers that the reader can peel like the skin from an onion. This story is more like an avocado, a bit bland and the same all the way through.
Lacking a really intense story line, a book can still hold my interest if the characters unbend from the page, stand up and entertain me as they show multi-faceted personalities.
Alas, Brunstetter's characters are all painted with the same brush and just sort of lie among the chapters like paper dolls, waiting their turn to point a finger at some wrong-doer.
Obviously, there is a segment of society that enjoys Brunstetter's messages, intended to be inspirational, but, unfortunately, ones that tend to rise up and hit you over the head. Subtle these messages are not.
This book spares the reader from naughty words and sexy scenes, but does provide lots of judgment. And, for some strange reason, Brunstetter's characters seem to be accident prone, with only one of the mishaps having anything to do with the story line. Very distracting and, to me, boring.
Brunstetter is the wife of a minister, so it may not be surprising that she pounds the pulpit in this book.
But, if you like your novels a bit on the saccharine side, with predictability and an ending that leads straight to church, the Bishop's Daughter is the book for you.
And...one must remember that this woman's books sell and you can't argue with success!
"A lot of people want to know about the Amish and how to simplify their lives, and I think these books give them a taste of that," Brunstetter said yesterday from her Wapato home.
Those who want to sample her wares can get their very own copy, by attending the July 4 book signing in Toppenish at The Amish Connection, 105 S. Toppenish Avenue.
.