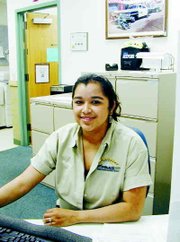 Since February anyone who has business at the Sunnyside Police Department has been met by the smiling face of Melissa Rivas, 22.
"I'm like old now," Rivas said of her five-month stint as receptionist.
"Seems like yesterday to me," her desk-mate Charlotte Hinderlider said.
Rivas and Hinderlider, administrative assistant to Police Chief Ed Radder, are the two who deal with the public on a daily basis for the police department.
When told their friendly smiles are a welcome sight, Hinderlider cracks, "It's the coffee. That's why they hired us; it's not for our college education."
Of course, she's joking. The college degrees both women hold make them desirable employees.
In fact, Rivas credits Deputy Chief Phil Schenck, as well as Hinderlider, with encouraging her to pursue her Master's degree through an on-line program with City University of Bellevue.
Rivas will begin that program in July, following in the footsteps of Schenck, who earned his Master's from City University.
Hinderlider is right in line to start her Master's program in the same way.
Rivas earned her B.A. in government with a minor in criminal justice, thinking she would become a police officer.
"But I changed my mind for various reasons," said Rivas.
"I want to get into human resources, stuff like that," Rivas said. Hinderlider, who graduated from Gonzaga University in Spokane, said she wants "to be a happy mom" to her youngster and then "work with people as a public information officer of some sort".
Goals have top priority with both women, who seem to be on the fast track with the police department.
A current goal of Rivas's is to remember her wedding date. Newly engaged this March to Troy Day of Prosser by way of Bakersfield, Calif., she had to ask Hinderlider whether the planned date was March or May.
"She couldn't decide on a date, so I set one for her," said Hinderlider, who assured her co-worker that May is the month.
Rivas came to the job in the police department in a round-about way, applying first for a job at city hall.
"Because of her extensive education, they referred her to us when we needed someone," said Hinderlider.
Rivas's duties run the gamut from answering the phone to dealing with most of the records generated by the officers to processing licenses for concealed pistols. She also can whip out a dog license, accept bail payments and account for the daily money that flows through the office.
The best thing she likes about her job is "the people I work with. They're very nice; they're great," said Rivas.
As to settling down to a life in the Valley, Rivas said, "For right now, I really enjoy the Valley. It's a good place for me."
When this Prosser High School graduate isn't working, she babies her dog, Cali Lynn, whom she rescued from the animal shelter.
"She spoils that dog like I spoil my baby," said Hinderlider.
At only six months old, Rivas's dog obeys a half a dozen commands and, Rivas said, "is very well behaved."
"She's spoiled!" Hinderlider counters.
The camaraderie between the two women is obvious, and their teamwork at the front counter of the police department is obviously to the public's advantage.
.