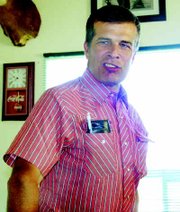 GRANGER - A man legally blind from birth expressed his gratitude for the help he's received over the years, to numerous Lions Club members at a special officer installation meeting held last week.
Guest speaker Todd Summers spoke about his relationship with Lions clubs throughout his life. "I am really here to say thank you," Summers said. He is one of nine children in his family and grew up in Seattle.
His attentive listeners were members of the Sunnyside, Zillah, Wapato and Granger Lions clubs, who gathered at Granger's Cherry Hill Golf Course to not only install new officers, but enjoy a fun-filled night together, as well.
From childbirth Summers had an underdeveloped optic nerve, making him blind. It is a condition that current medicine is not able to correct. When he was younger, a Lions club from Seattle gave him a Braille watch.
In the 1970's the Lions gave him microscopic lenses that cost $3,500 at the time. He continues to use those for reading only, as that is what they are intended for.
During the meeting he passed around his glasses. They looked like regular glasses, except they have what looks like a microscope attached to one of the lenses. "These glasses have been and are an integral part of my life," Summers said.
He signed up to become a Sunnyside Lions Club member during the meeting to show his gratitude to the organization.
Currently, Summers also uses a digital camera that takes pictures of the words on a piece of paper and translates the words into Braille.
Summer now lives between Grandview and Prosser and works at a Radio station, KZXR, where he has worked for 15 years.
Last week, he played Dino Putt with his fellow Lions club members and showed that despite his handicap, he is still able to live a life that includes such fun things as golf.