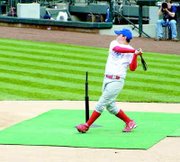 Tyler Niemeyer made the most of his return to Safeco Field, bringing home state first-place honors at the Pepsi Major League Baseball Pitch, Hit & Run competition.
The son of John and Monica Niemeyer, who live between Sunnyside and Grandview, Niemeyer was first in the 13/14-year-old age group in the state and earned a ranking of seventh in the nation.
He competed in the event when he was 12, taking second place. "The very first time, I was so nervous and tense," Niemeyer said of his Safeco Field debut. "I couldn't believe I was there. So when I went this year, I was really relaxed and I did a lot better."
The pitching portion of the competition requires hitting a target 45 feet away with six pitches. The hitting competition focused on line drive accuracy, smacking a ball off a tee and hitting it in as perfect a line as possible into center field.
In the running event, competitors ran the Safeco infield from second to third base and third to home in the quickest time possible.
Niemeyer, who will be a freshman at Prosser High School this fall, said his goal is to some day play professional baseball.
Specifically, the shortstop would like to some day return to Safeco Field-as a Mariner. "That's my dream," he said.
As far as the secret to his state-title success, Niemeyer provided an answer fitting for the Father's Day weekend pitch, hit and run event. "I'd have to give credit for all my skill and hard work to the best coach I've ever had, which is my Dad."