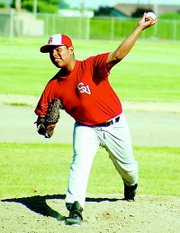 A combined four errors over two innings blew open a tight game this past Friday, as the Sun Valley 14/15-year-old Babe Ruth baseball team lost 10-5 at home to a Richland team.
The Sunnyside club jumped out to a 2-0 advantage in the first inning, as Angelo Salinas and Lane Pickel each produced RBIs.
The Richland Einans team tied things up in the second, setting the stage for third and fourth inning rallies that turned the tide against Sun Valley.
Richland scored three runs in both the third and fourth, but only two of the six runs were earned because of a combined four errors by Sun Valley.
That made the contest an 8-2 game in favor of Richland. Sun Valley produced a three-run rally in the bottom of the fourth, keyed by another RBI by Pickel, but could get no closer.
"Those were the killers," Sun Valley Coach Tom Schmick said of his team's errors in the third and fourth innings.
Nunez had a solid day on the mound, issuing two earned runs in four innings of work, and at the plate with a 2-for-3 performance.
Pickel was 1-for-3 with two RBI and Matt Omlin was 1-for-3.
Sun Valley (7-7) closes out the regular season with home games tonight and tomorrow. Both start at 5:30 p.m. and both are against Richland teams.
Schmick said his team will work on pitching and defense as the regular season winds down.
"It goes back to my motto," he said. "We have to tighten up our pitching and defense. In the games we have lost, we've committed quite a few errors and the pitches weren't getting across the plate."