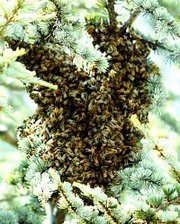 Dealing with animal problems is an everyday occurrence for Sunnyside police officers, but several of the six animal problems reported this past weekend presented something of a challenge.
Officers were asked to capture and haul away two snakes, who were cavorting near an apartment at 1500 Federal Way this past Friday. Officer Erica Rollinger complied and released the harmless vipers in a vacant field.
A bunch of bees in front of a bank on East Edison Avenue were reported on Friday, too. No details available as to who handled that one, or how.
Dogs running loose in Sunnyside are a continuing problem, and this weekend was no exception. However, two concerned citizens reported animals locked up without water.
One was a dog, reported on Sunday to be in that state, locked in a car parked at Wal-Mart with the windows of the vehicle rolled up. The second report was of a horse in a trailer, parked in the 1400 block of West Madison Avenue, at 3:12 p.m. Sunday.
With temperatures hitting in the high 90s, pet owners are encouraged to remember that temperatures in a closed vehicle soar over the outside temperature and can be the death of animals left unattended.