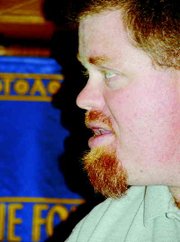 The Reverend Lloyd Wicker was casting a big shadow as he outlined an ambitious plan to provide two chaplains for each of the four fire battalions in Yakima County Fire District #5.
Wicker is the only chaplain in the district now, serving as a volunteer with the Sunnyside Fire Department.
However, Wicker and Shane Mortensen, who is a chaplain with the Sunnyside Police Department, are co-founding the Yakima Valley Community Chaplaincy to offer support to police, fire and emergency medical responders.
It was this organization, still in the embryo stage, that Wicker was explaining to the Noon Rotary Club members Monday at their luncheon meeting in Sunnyside.
Wicker said there are three other clergy interested in taking on the non-denominational, voluntary service, but the cost of training each is $600.
"That's for the tuition and room and board. It doesn't pay for the transportation (to the Washington State Crisis Justice Center in Seattle)," said Wicker, as he made a low-key pitch to Rotary for a donation to get the chaplaincy program off the ground.
Wicker said a lawyer is already filing articles of corporation for the non-profit Yakima Community Chaplaincy.
"We're on our way!" said Wicker.
The new corporation will just expand on services Wicker and Mortensen provide for their respective departments. Services such as performing crisis intervention for disaster victims and their families, notifying families of serious injuries or death and helping emergency responders deal with stress that comes from doing work that, Wicker said, "other people would run away from".
They have been serving those departments voluntarily for the past three years.
Wicker said chaplain services are important if they can help firefighters and police officers handle the stress that often results in frequent turnover of employees.
As an example, he cited two major airplane crashes, one in which the emergency personnel received such support and another in which they didn't.
Without chaplaincy support, resignations were the norm, but, more importantly, perhaps, mental health issues were 31 percent for the non-supported crew while it was only 1 percent for those who had the benefit of chaplain services.
In addition to the immediate benefit to the employees, providing support that leads to long-term employment is a benefit to the community that pays to train such employees, Wicker noted.
The plan that Wicker and Mortensen are working on would provide such support to the 16 fire stations in the four battalions of Fire District #5, as well as police departments and emergency medical technicians in the Lower Valley.
"And we wouldn't limit the service. We could extend it to the Yakima County Sheriff's Office, whose chaplain just retired," said Wicker.
He emphasized that the Yakima Valley Community Chaplaincy is tied to no specific church, and his pastorship of the Sunnyside Christian Reformed Church is in addition to the volunteer work he does on his own time as fire chaplain. The same holds true for Mortensen, who is a Sunnyside police officer as well as a volunteer chaplain. Mortensen, while not a member of the clergy, is studying for the ministry.
The corporation they are forming is guided by a five-member board of directors, of which the two men are members. The other board members are Lloyd Hazzard, deputy chief with the Sunnyside Fire Department, Christina Rider, a physician's assistant, and Jon Ladines, a Washington State trooper.
Again, like the chaplains, their employment is not attached in any way to the chaplaincy program.
Wicker left his card with each of the Rotary members yesterday, informing them that if individuals, organizations or businesses wanted to contribute to a fund to support their efforts, donations are being accepted.
For more information, contact Wicker on his cell at 509-391-0632 or by e-mail at Lloyd@communitychaplaincy.org