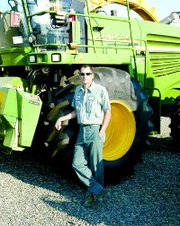 Two employees at RDO Equipment Company in Sunnyside have been awarded the RDO Equipment Company's Choice Award.
Steven Anderson and Douglas McDougall are the award winners.
The Choice Award was presented to 75 individuals throughout the company. Anderson and McDougall, along with the other winners, were flown to Atlantis Resort on Paradise Island in the Bahamas last May by RDO to celebrate winning the award.
The two Sunnyside employees were nominated for the award by their peers for their exceptional contributions to customers, and an outstanding dedication to partnering with fellow employees.
"This peer recognition program awards those who exemplify our company values," Ron Offutt, President and CEO of RDO Equipment Co., said. "The recipients continually strive to make this company what it is today, a great place to work and the dealer of choice for our customers."
The nomination written for Anderson by his fellow employees stated he is always treating people, employees and customers, with great respect. His upbeat, positive attitude is contagious and adds to team development.
"This award shows the core value of the company," Anderson said. He explained any employee can be nominated. If one employee sees something he likes from another employee, they can go online and fill out a form recognizing the action.
"It's awesome," he said of winning the award. "To be recognized by your co-workers for doing a good job, it makes you feel good. All the little things you do get noticed. It makes you want to strive to do better."
The peer nomination McDougall received stated he is always the first one to work. He has a great attitude at work and does his best to make the customers happy as well as the technicians in the shop.
RDO Equipment Company is a family-owned company. They have 60 locations in 10 states and employ more than 1,600 people.