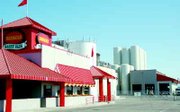 Topping the $922,230 in valuation for building starts for the city of Sunnyside during May was a project valued at $200,000 related to the West Farm Foods plant at 355 E. Alexander Road, behind the Dairy Fair.
The city collected more than $2,500 in permit fees for the project.
More than half (about $550,000) of May's valuation came from four new, one-family home construction starts.
The largest was a 3,619 square-foot home started by Aho Construction at 1605 Harvest Place, which has a valuation of $196,816. Another new Aho home start in May, at 1514 S. 14th Street, is valued at $182,462.
The other two new home starts, valued at $88,827 and $82,112, respectively, were at 313 Villa Real Drive and 1404 Kristen Avenue.
The city of Sunnyside collected just over $8,000 in permit fees for the four home starts.
All together, the city collected just over $13,500 in fees from permits issued for building, mechanical and plumbing during the month May.
Water and sewer connection fees coupled with water meters during May gave the city over $2,400 in additional fees.
The city issued 87 permits in May, with 49 permits being issued for building projects. Another nine permits were issued for mechanical projects and 17 were issued for plumbing jobs.
City officials conducted 299 building inspections during the month of May, with the four new home starts accounting for 76 of the visits. The city also made 64 inspections during the month for conversions or additions to non-residential buildings.
Including building, mechanical, plumbing and other inspections, inspectors made 504 inspections of sites.
New total square footage for the month of May was just over 11,000 square-feet.