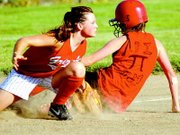 Technically, the Sunnyside High School girls fastpitch softball team came away with a win over the visiting East Valley Red Devils yesterday afternoon.
The Lady Grizzlies accomplished that feat without taking a step on the diamond. That's because East Valley was short of players to field a full team. Officially, Sunnyside picked up the victory, boosting its summer season league record to 4-1.
But in an ensuing exhibition match-up, with Sunnyside loaning the Red Devils one player, East Valley squeaked out an 8-7 decision. The Red Devils plated three runs in the fifth inning to eke out the come-from-behind victory.
"We started throwing the ball around," Sunnyside Coach Ralph Mendoza said in explaining how East Valley scored its three, fifth inning runs. The costly throwing mistakes compounded the problems the Lady Grizzlies suffered in the fifth-which included yielding two hits to East Valley, as well as a walk, and a couple of passed balls.
Up until the fifth, the Red Devils had only managed one hit off Sunnyside hurler Melissa Stamschror.
For the game, the Lady Grizzlies out-hit East Valley by a 9 to 3 margin. Sunnyside's big gun at the plate Monday afternoon was Emily Van de Graaf, who lashed three singles in four official plate appearances.
Coming through with extra base hits for Sunnyside were Kassie Luther and Marina Martinez. Luther doubled in the third and Martinez drove in a run in the fifth with a two-bagger, as well. Notching singles for Sunnyside in yesterday's game were Brittany Ramerman, Stamschror, Malesha Maltos and Allie Waddle.