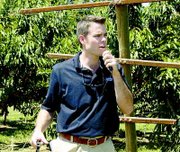 PROSSER - Researchers at the WSU Roza experimental farm in Prosser have been experimenting with several ways in which to better produce cherries.
A cherry field day was held at the experimental orchards, last Friday, June 23, for researchers and farmers to discuss what has been working and what needs to change.
Matthew Whiting, research leader for the experiment, discussed how training cherry tree limbs into two vertical uprights, called fruit walls, may be more cost effective in the future than the traditional tree.
The experiment uses a chaotic canopy order, a less bush canopy is desired for this type of tree training. "It takes the art out of pruning," Whiting said. It will make pruning a more systematic process.
The idea is to create a way for mechanized harvesting to take place. The experiment showed that the training of trees at that particular angle did not always work, as it depended on the type of cherry, but it has proven successful for a majority of trials.
They will experiment with various angles of fruiting walls. In the future there will be very few exceptions where fruiting walls are not used. Fruit quality is not affected by growing fruit in a wall rather than in standard tree form.
The researchers at the WSU Roza experimental orchard expect to see more cherry growers use fruiting walls in the future.