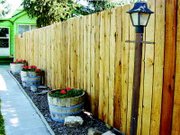 Leon and Rhonda Fultz were junior high sweethearts. They were married when Leon was 18 and Rhonda was 16 and have been together 31 years.
They have just started a new cedar fence business. "It just kind of fell into our laps," said Leon. Their son's boss asked if they wanted to sell lumber and they agreed try it out.
That was only a month ago, and their business is already booming, with 10 units sold before they even had the wood. Jump forward to a month later and they have sold 9,000 boards before any advertising has been done.
Orders are continuing to come in, some of them fairly large for their fencing. Leon and Rhonda are surprised that there is such a high demand for cedar fencing.
The high demand may be for many reasons. They sell the thickest cedar fencing in the valley, "3/4" and will be getting "7/8" soon. Their cedar fencing is high quality and is 30 cents cheaper than anyone in the valley, they say.
This business is not their only job, Leon worked at the James River Plant in Sunnyside for 16 years and transferred to Portland for seven years after the plant closed down. After moving back from Portland he began working at Bi-Rite Lumber for five years and currently works at Huttig building products as a truck driver.
Rhonda is a cook at Sunnyside High School and continues to cook at local events for the summer. She went back to school and received her GED at 43 years old. They also have 20 acres of alfalfa to help keep them busy. They find time for their cedar fencing business after work and on weekends.