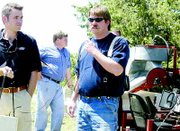 PROSSER - The heat did not keep local cherry growers and researchers from gathering at the WSU Roza experimental orchard to discuss the future of cherry growing last Friday.
After fruiting walls, the discussion turned to mechanized harvesting, which will be made easier by having cherry tree limbs trained into two vertical uprights.
The angles of the fruiting walls experimented upon were at 55 degrees, which were excellent for the mechanical harvester, but not necessarily in the producing of the fruit. They will experiment with fruiting walls at 70 degrees next.
An imminent loss of labor may seem inevitable, but harvest labor will be traded for maintenance labor, such as tying branches.
The mechanical harvester will cost growers about two cents per pound of cherries for labor as opposed to 20 cents per pound of cherries for labor now. That includes the cost of the machine and all maintenance that goes along with it.
The fruiting walls are spaced far enough apart for the mechanical harvester to be driven between them. It knocks the fruit off of the trees, which land into a large catching area. The cherries are not shaken from the branches, they are knocked off. "A common misconception is that it is a shaker," said Erick Smith, a graduate student of WSU.
The fruit quality is not affected by being knocked from the limb. When cherries are harvested this way they do not have stems, but the WSU research team conducted studies that show consumers prefer cherries without stems.